Whether you love weddings or are planning for one, this artist does a great job capturing the essence of a wedding through- you guessed it- the wedding cake!  For most parties the cake is the highlight of the event and it is specially chosen by the couple.  To commemorate those memories, one unique artist decided to make a special handcrafted memento of the wedding cake and turn it into a miniature version that they can keep for the years to come.   
Los Angeles based artist Rachel Dyke has always loved miniature things, from around the age of six or seven she began dabbling in the art and by the age of twenty she realized she could combine her love for baking and small things to create something special.  Her background in baking included working for Charm City Cakes owned by Food Network's Duff Goldman (Ace of Cakes).  She took her love for baking and decorating cakes to a small scale and began crafting miniature replicas of real-life wedding cakes with amazing detail that bring it to life.  These little cakes are unfortunately not edible as they are made out of polymer clay, acrylic paint, bits of jewelry and other knickknacks to add the finishing details.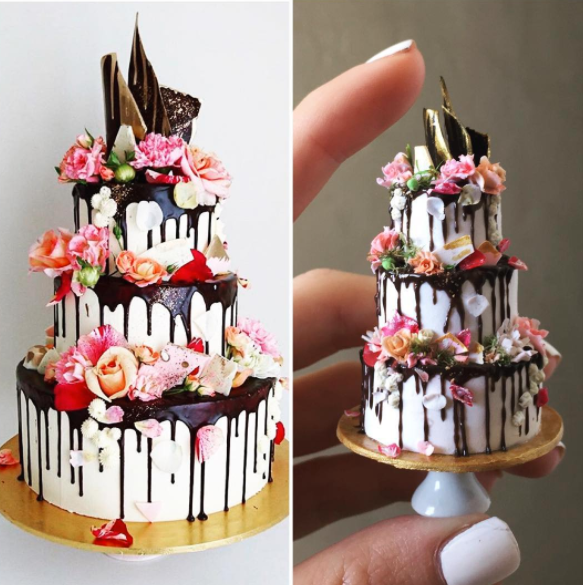 These miniatures are thoughtful and cute keepsakes that can remind the couple of their very special day and best of all, do not take up much space!  On her Instagram account, Rachel shows parallel pictures of both the real wedding cake and her miniature version which look similar down to the little details.  Although working on such little cakes may be painstaking work, Rachel finds it satisfying in the end especially after seeing clients reaction to the work as some have even broken down in tears.  As for commissioning this busy artist, her services have a two month long waiting list and business inquires can be done through her Instagram direct messages.