Romance is in the air with Valentines Day just around the corner,  it is time to treat you and your partner to a sweet mini vacation.  Even if it is just for the weekend, a little bit of time away is a great way to reaffirm your affections for one another and let the stress of every day life melt away. Even better, these tiny house hotels are the perfect way to enjoy each others company and try out tiny living at the same time. Ready for a romantic getaway tiny edition?
Located right outside of Portland, Oregon, this tiny getaway has a beautiful backdrop of Mt. Hood National Forest.  This retreat is perfect for anyone looking to get away from the busy city life and become one with nature.  These individual tiny houses are fully equip with your own kitchen- perfect for whipping up a romantic dinner for two!  Just want to laze around, there is an on-site swimming pool, spa and game room to chill in.  For those who worry about connecting with the outside, there is wifi and television connection in this village.  For those looking for a little adventure, there are biking and hiking trails to explore.  Within this village are five different modeled tiny homes ranging from 175 to 260 square feet.  Costs for renting these small tiny houses start at $129 per night and can fit up to 5 people!
2. Getaway
Getaway is a hospitality company that focuses on providing a stress free vacation for those looking to escape the bustling city life.  These rentable off-the-grid tiny houses are located just outside of the city limits from New York City, Boston, and Washington D.C. The purpose of these tiny getaways is to allow you to revel in nature and enjoy the quiet peace of the outdoors.  This is a great way to whisk your significant other away for a weekend and have some romantic one-on-one time enjoying one another's company.  Even better the rate for renting one of these tiny houses starts at only $99- what a steal!
This unique getaway is located in South Big Sur, California.  This glamping style resort boosts of yurts- large tent like structures that offer full amenities from a queen size bed, electricity and a beautiful view of the ocean from your own private wrap around deck.  There are pool, hot tub and dining options on the premise for guests convenience.  Other activities offered include hiking, seasonal whale watching, and beach combing.  The starting rate for renting a yurt is $320, which is not bad considering you get a gorgeous view of the ocean or mountains to enjoy!
For those interesting in visiting Wyoming, this resort boosts of three different style cabins available for rent that offer a luxury retreat with access to hiking trails and skiing options.  Anyone looking for a romantic getaway should check out The Wedge Cabin, which is the smallest out of the three and is equip with a fireplace, a romantic trip for any couple to spend some quality time together.  The cabin also has a king sized bed and a personal kitchenette to cook a romantic meal together.    Even better these cabins go for $129 per night.
5.   Tiny House: Heart of the East Side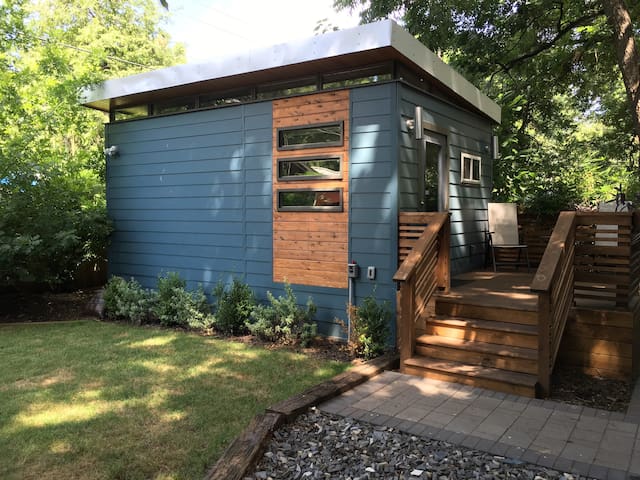 This tiny house is a cozy getaway for anyone in the Austin, Texas area.  Located in the heart of East Austin this 200 square foot tiny house is perfect for anyone looking for a little vacation.  The tiny house boosts of a charming wood deck, perfect for outdoor lounging and is ideally located less than 2 miles from Austin's famous Rainey Street bar and restaurant district.  And for outdoor fanatics, the tiny house is located 3 blocks away from the Lady Bird Lake trailhead on Pleasant Valley, for walking, biking, and running.  The cost of renting this tiny house is super affordable, only $69 per night!