One cool trick to make your tiny house seem bigger and more spacious is the use of mirrors.  Mirrors can not only reflect light from the windows within your tiny house, but it can also trick the eye into believing the room is bigger than it really is.  Here are some great hacks that use different types of mirrors to create a space that not only feels light and airy, but has some great surprises within!
Sticker mirrors are a cute, inexpensive way to decorate your tiny house.  These stickers have a reflective mirror surface with a self-adhesive and come in different shapes, sizes, and styles.  It is easy to find one that suits your aesthetic and can serve as a statement piece on any wall in your house.  Ready to purchase some?  Check out Walmart of a wide variety of options.  Another great place that carries these stickers is Amazon.  These cool tile mirrors can be used to create an interesting accent piece for any wall in your tiny house and can be arranged however you prefer.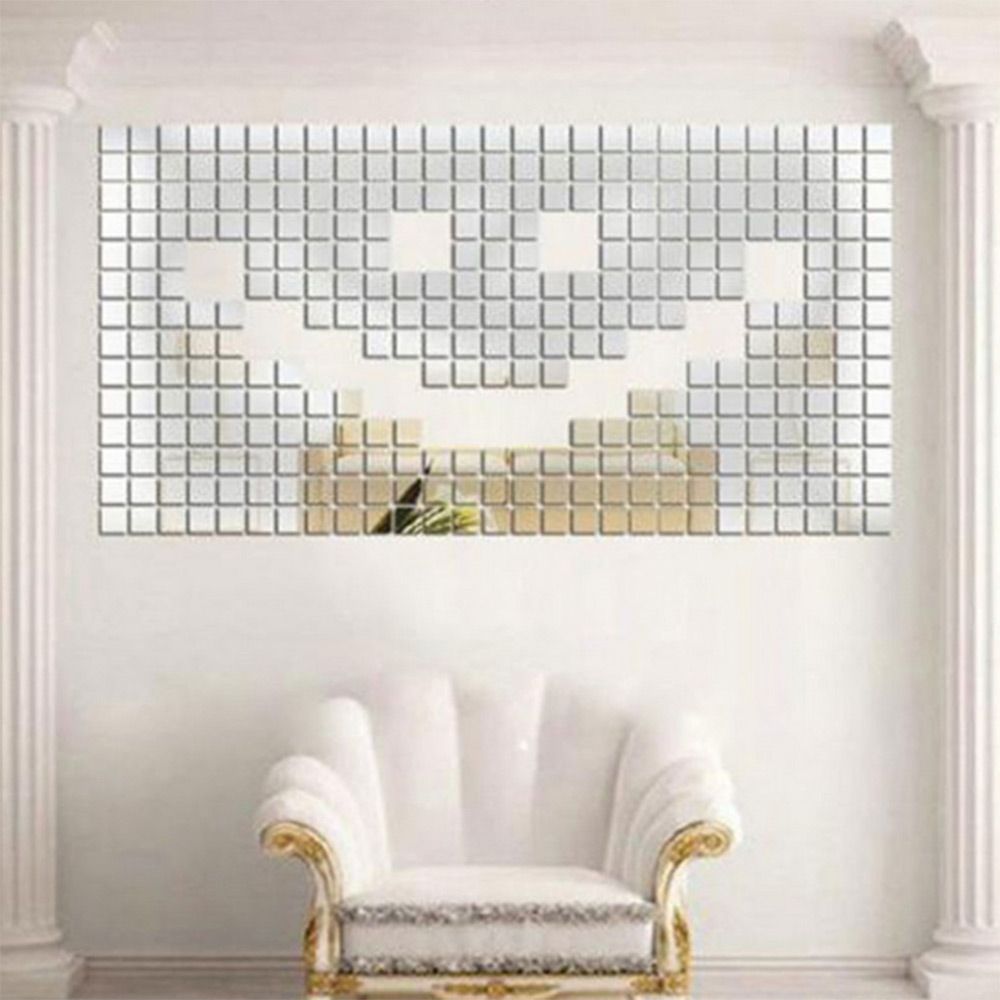 Over the door storage mirrors are a great way to make your tiny bathroom feel bigger and add much needed storage in your tiny house.  Not only are they bigger than your traditional mirror, they also can help store beauty tools, cosmetic products, and other basic body care products.  This frees up space on your counter for getting ready in the morning and makes it more efficient for organizing your bathroom.  It also is a great way to make use of the vertical space within your bathroom.  Want one, but do not know where to look?  Bed, Bath and Beyond has you covered! Not only does this model have plenty of storage, but it is optimal for holding more delicate items like your jewelery too!
Mirrored closet doors or long floor length mirrors (attached to doors within the house) are a quick and effective fix to make your bedroom/living space feel much larger than it really is.  Not only does it make the space feel bigger, it is easy to DIY and relatively cheap to do. Check out this cool and affordable DIY project to turn a cheap floor length mirror into a upgraded and sophisticated piece perfect to grace any family room.
Picture frame mirrors are a creative and artistic way to express yourself.  Not only is small and does not take up much room either. You can use all different types of frames with multiple colors to create a unique collage. Also feel free to go abstract and use lots of shapes and sizes to make the mirrored wall a focal point in the room!