Taking a bath can be a great way to unwind, relax and take a moment to yourself after a hard day of work.  When you think of a tiny house, I am guessing you are wondering how a tub could possibly fit in a tiny bathroom?  The answer, creatively.  There are a variety of non-traditional tubs that are eco-friendly, upcycle and are perfect for tiny bathroom spaces. Still not sold?  Check out these tub ideas that will be sure to get you on board!
Live on a farm or know a horse lover looking to get rid of their old horse trough?  Horse troughs are great inexpensive, durable, and lightweight tub option that can come in lots of different shapes and sizes.  Not only can you reuse the metal material to shape, fuse and cut the trough to your exact measurements, but you can also reuse these materials that would have gone to the scrap pile.  Upcycling is the idea of taking something old, whether it be material, old furniture, and turning it into something new again!  Not only is it eco-friendly, but it is a creative way to get the tub of your dreams on a budget.
Not sure if a trough is for you and looking for something a bit more sophisticated and modern?  Check out a Japanese style soaking tub.  These tubs are compact, round and a perfect fit for a tiny bathroom.  These tubs come in all different types of materials, so if you fancy a hand crafted copper tub to a simple wooden one, this tub has you covered.  Although this tub is more costly than a horse trough, it is sure to help you unwind after a long day at the office- which might be worth the splurge!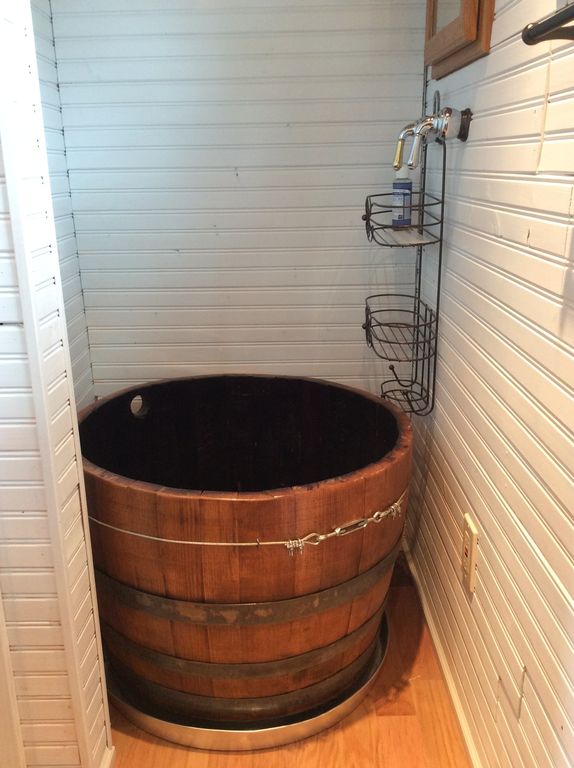 Still interested in thinking outside the box?  This idea is rather wild, but a surprisingly affordable and interesting solution to get a tub in your tiny house.  I know wine is traditionally paired with some chocolate and a great book to read in your bathtub, but ever thought of having a wine barrel tub?  This intriguing idea takes half a wine barrel and uses it as a small tub (perfect for young children to bath in) and serves as an affordable base for your tiny house shower.  Not only is this an affordable option, especially if you could find a winery or wood shop that is willing to donate/sell off an empty wine barrel, but you can easily saw/cut the barrel in your own backyard and voila a tub is made!  The coolest thing about a wine barrel is the fact that the wood is a natural absorbent for liquid.  And when you take a bath in it, the water will help expand the wood and keep it from leaking everywhere.